GambleJoe celebrates 10-year-anniversary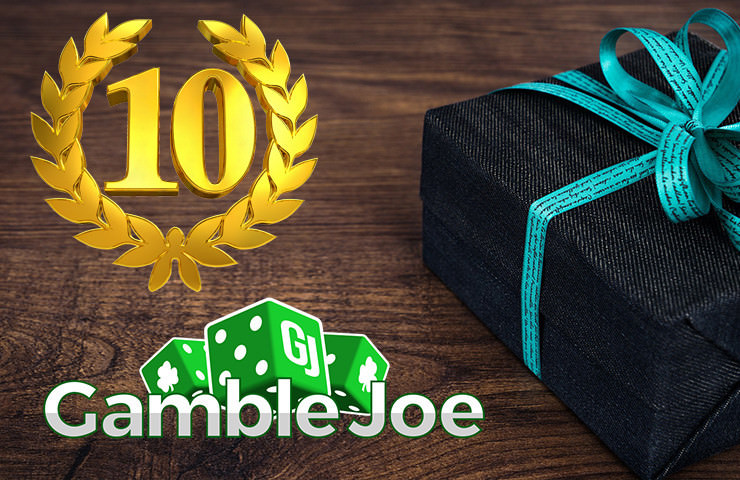 It is hardly believable but true. This year GambleJoe is celebrating its 10-year-anniversary. It was exactly 10 years ago (on the 13th. October 2012) when GambleJoe first went online with its gambling content.
It was in 2012, when Daniel had decided to set up an information website under the name of GambleJoe and it should be managed by a serious marketing company. The unique selling point was very clear from the beginning - he also wanted to show the negative sides of the casinos on this portal and till now there had not been something like that on the German speaking market. He had already collected enough content and in fact prize videos could be found on GambleJoe from the initial start. After just a short while the site was already increasing its popularity.
GambleJoe Relaunch
Then in 2015 I (Matthias) came on board and the portal was completely restructured by 2016 and in September 2016 it went online. For the first time one could then register as a community member. By May 2017 it was already possible for community members to upload photos, but then the GambleJoe Casino Forum was launched. In the following years several functions were added, and the project continued to develop with the help of the loyal community.
For the nostalgic people among you we have chosen here three screenshots of how GambleJoe looked like before:
You are interested to learn more about the history of origin? Then take a look at the section "About GambleJoe".
New: GambleJoe Merchandise-Shop
In the past we had received several requests from our community for GambleJoe Merchandise-Articles. Therefore, with the help of Spreadshop, we have now launched a Merchandise Shop. From now on you can buy several merchandise articles from the web address https://gamblejoe.myspreadshop.de/. In our shop you can already find many products with our logo. The colour of each product can be chosen according to your taste. We will continue to expand our products, depending on the demand.
We would also like to inform you that the shop is completely non-profit, i.e., we do not make any money when you buy. We do not have any profit margins or commission.

A thank you to active users
To celebrate this day, we have decided to send some of you a thank you gift. It is only an active community which makes this page and its content valuable. This time there will not be a GJ Coin raffle, but we have found another way to pick out the users who deserve a special thank you.
Thus, we have "taken a look" at the GJ coin raffles of the past 6 months and created a list of all raffle participants. In all we came up with 140 members who still have an active account and in the past 6 months have qualified at least once for the raffle.
We are giving out a 50-Euro voucher from our merchandise shop to every member who fulfils the above-mentioned criteria.
Through this action we will be giving out 7000 Euro to the community and thus during the last 5 years we have given away more than 150,000 Euro to the community.
We have already distributed the vouchers and you should find them in your dashboard.
You can drop down the complete list of winners here

13337, Bierstus, bigbig, BingOo666, bird33, Blubbo33, Bluff, Bonusbaron, bruffl, btssultan, bubbamaus68, cereal_killer, Chewi, Chris26, chrissi1991, Christian1337, Da_Wei_87, Daniel1988, danny005, DasAtom, Denjo889, DENOO34, denyo123, DerLorax, dersawen, DieWunderharke5000, Donnie, Dutch78, Edizkassel, Elohaze, elonja, Engraver, enimmysli, Enride87, Falke, Falko, Ferdo, Fofinha82, Freakz0id, gagapapamama, gamble1, gambler67, gambler90, garfield68, Gigi55, Hanshanshans, harlekin, HeadDasher, Hightower, himmel80, hustlehoff, Iknowyou, Iseedeadpeople, Jacy30, Jan_Ben, Jenn-R, Jojolino, Katyanoack, kersei, kleo7777, Krustenkaese77, lance8411, Leohockl, Littlemanson, Lizzy0805, Malganes, manzan0, Marcellovic, MasterChiefKief, Max_Bet, mdm41, Mendex, Mickylein, Milo1, Misterkiste, moody, MrGatsby, myring42, Negan55, Nick1895, Nickii45, Nik89, nova82, oldschoolmeisje, palme7777, Patizi, Peter8, Playerneb, Pokahuntaz, Popi2099, Quietscheentchen, R0UNDER, Rainmann, Ralkone, raresh11, Rasmik12, RebellYell, RedKaos, Relisys81, ren812, Rocco9988, roccoammo11, Royal777, ruhrpott, Salvo345, Sandra20, Saphira, Sarkasto, Sascha85, Schnorbi87, Shox2k17, SimonH, sippi, Skitch22, slotliebe, SlottiKarotti, snopsim, sonne10, stormit, Stromberg, supermode, Svenr, Thenoobytuby, Thorin2017, TimoA91, Tonkabohne, TranceBabe, upola, voerde, wettibernd, Whilm, WithoutWings, Wonderboy2016, Wutmaennchen, Xavi22, xorbit2033, xxjj19, XXLEONIDASXX, zocker0815, zurek1989
You can still acquire GambleJoe merchandise articles in the shop and profit from the 15 % launching discount even if you do not have a voucher code. If you want to buy an article, please do not forget to press on the discount button "redeem" in the shopping bag.

For the users who have won a voucher:
In the cash section you can enter your personal voucher code since vouchers can be combined with shop discounts.
Note about the use of voucher codes: The shop vouchers which we have given away have an expiry date. They must be used within the next 2 months. They can be used by 14.12.2022 at 23:59 hrs. On the 15.12.2022 the voucher codes will become invalid. Should you still have any remaining balance on the voucher code after you have done your order: we would like to inform you that barter transactions are not allowed in the forum. However, if you want to give away the codes privately to another member, we have nothing against this.
What are the prospects for GambleJoe?
Over the years we have channelled a lot of work and nerves, but also love and strength in the portal, and we have always tried to support you – the community, to listen to you and to be true to our motto "online casinos are replaceable, the trust of a community is not!"

The gambling market in Germany is changing – meanwhile this is clear, and nothing can be done.
We at GambleJoe will gradually also have to adapt to the new circumstances to be able to stay active on the German market even in the future.
It is still not clear what adjustments will have to be made, but we are in contact with the Gambling Authority  and with our lawyers in Germany and we are trying to develop ideas and solutions to ensure that our platform will be operating in a legal way for our German speaking users.

Finally we would like to tell you  - WE ARE PROUD – proud of GambleJoe – proud of what we have managed – but also super proud of you!
It is fantastic to see how the community has grown, how many members have been accompanying us along the years and the steady support of the community to the newbies in the forum, a community who is constantly ready to answer questions.
Today we are celebrating this and look forward to the next 10 years!

Many greetings from the whole team:
Daniel, Matthias, Counter, Antje, Julian, Caro, Sabine and Andre
What do you think of the article?