Dear Community,

as always on the 1st of the month we drew our GJ Coin winners for the month of April 2023 among the most active members.
Since we had a particularly large number of participants this month , we decided to draw 80 instead of 60 winners.

For all of you who see this promotion here for the first time:
The coins you can win will end up directly in your GambleJoe Wallet and can be exchanged for vouchers at any time.

You can find the current raffle video here: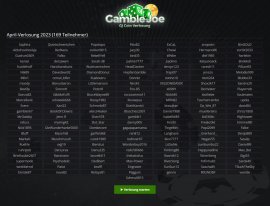 SHOW ALL WINNERS - ATTENTION SPOILER ALERT!!!

Denjo889, Domkecore, SunSun13, himmel80, Wonderboy2016, __Everhard__, wettibernd, Schnorbi87, gambler67, Engraver, Stromberg, zocker0815, DiamondDonut, Daniel1988, Psychedelic, Relisys81, DieWunderharke5000, Iknowyou, Broccoli, schwede666, gagapapamama, Bonusbaron, diel1985, Oedibert, Chewi, Saphira, Ruehle, voerde, Niroht, Nick1895, redchilli666, ruhrpott, Bierstus, Sandra20, Slot_Star, RedKaos, BookOFClowns, Isabelldi83, Fox-85, Whilm, bird35, BruceWayne89, Soulmates, Blubbo33, xorbit2033, Max-Power, Popolopo, dersawen, Popi2099, Enride87, kleo7777, ilo030ilo, Happynadine, LsDohle, Bloschies2001, RebellYell, ren812, T0uchTheSky, XXLEONIDASXX, Da_Wei_87, Littlemanson, DeinVater, Rainmann, denyo123, Dutch78, Falke, kersei, Brieftaube2607, Nik89, alen246alen, Taschenrambo, Bastilp, Hightower, R0UNDER, Jenn-R, genrix, Fofinha82, Sasalp, Svenr, snopsim


The GJ Coins have been distributed directly and can be used.

Congratulations to all the winners! To all others who were not drawn this month, we keep our fingers crossed for next time.

This post has been translated automatically